Been dumping my money into my 90 crx for years....lol
Quick rundow btw 100% Daily driven!
Well I have been putting parts together for a while now and thing are falling inline. Got my block back from the shop a few weeks ago.......
Final numbers were 296hp 289tq at 22psi on pump gas. Maxed out the turbo and its now time to go bigger!!
here is the set up.
B18a1 81.5 boreed, honed, and balanced
wiseco -12cc dished pistons
TunerToys rods
Skank 2 single valve springs
Delta Cams Regrind 272/260 turbo cams
LSD dragger street disck and clutch
Garrett To4e 40trim
ebay 38mm wg
arp head studs
Eville140 splog
Weir traction bar kit
750cc injectors..... and so on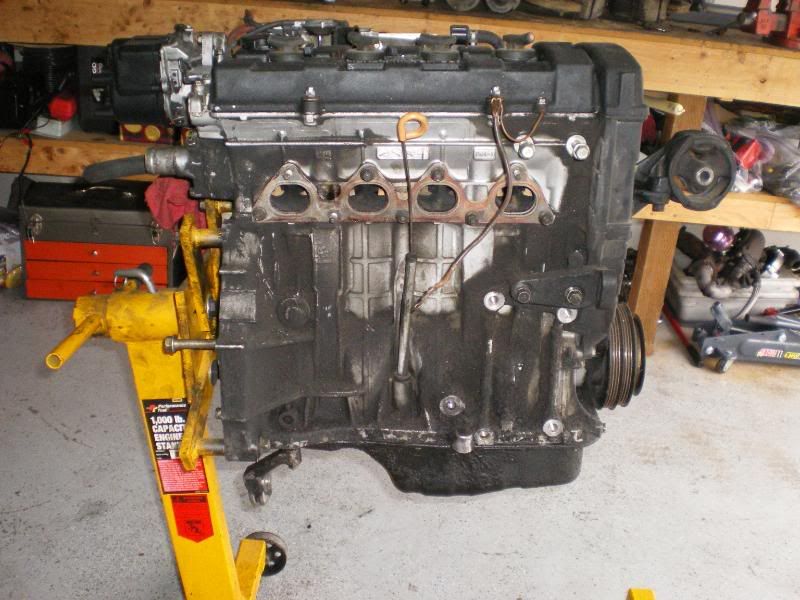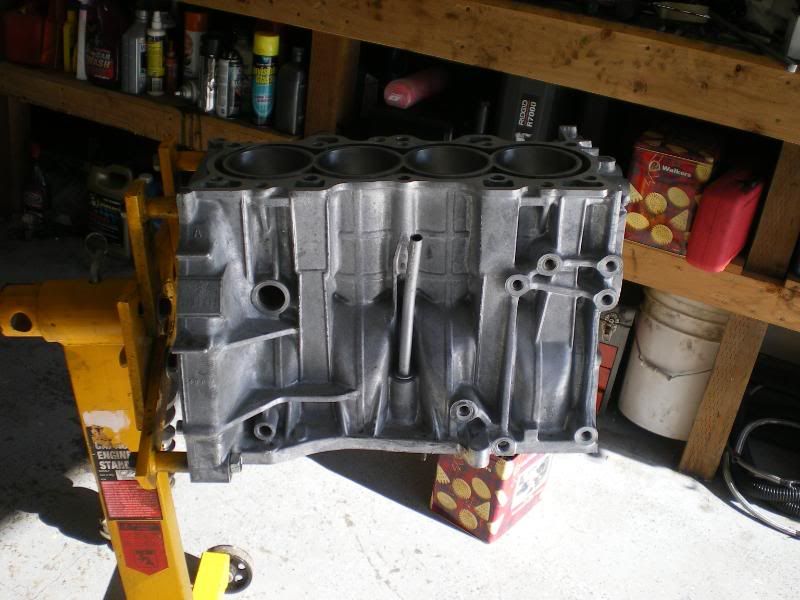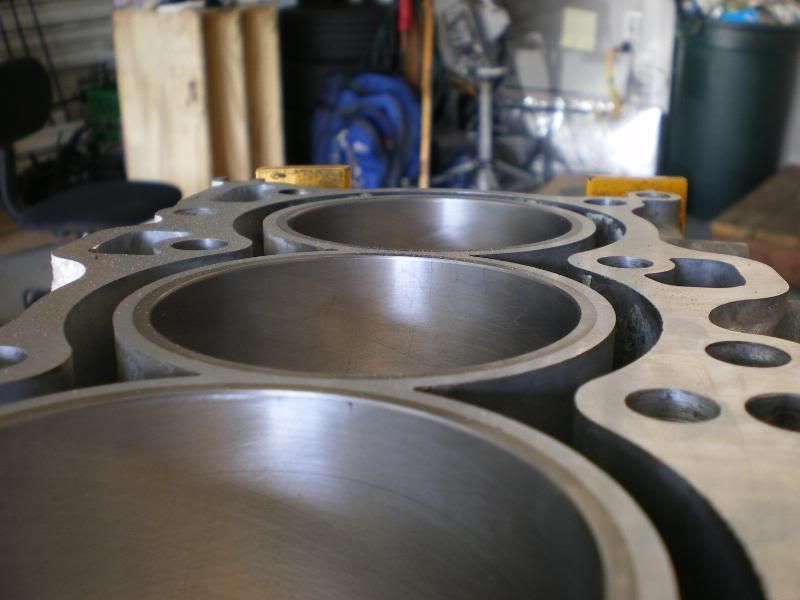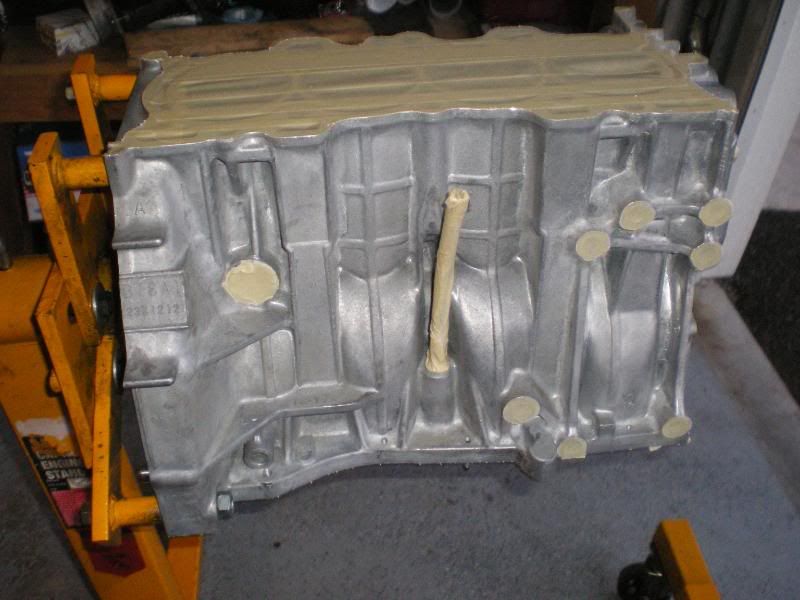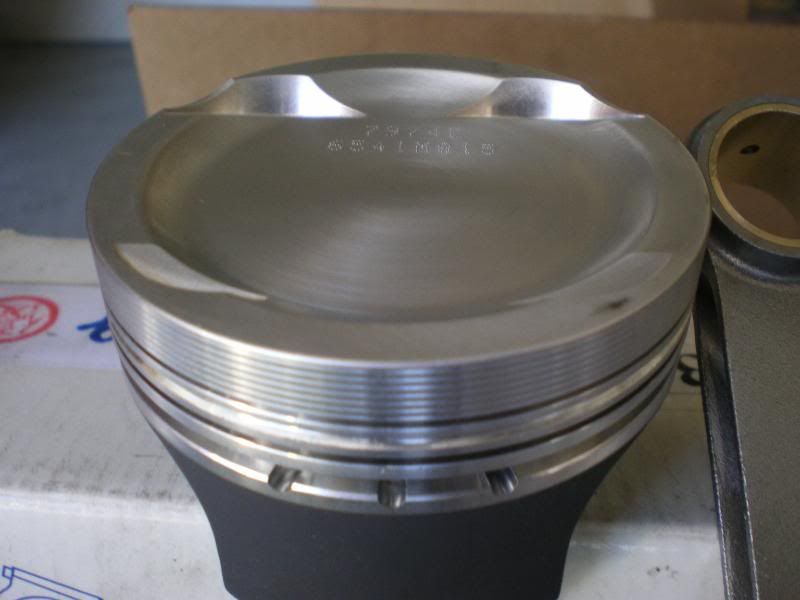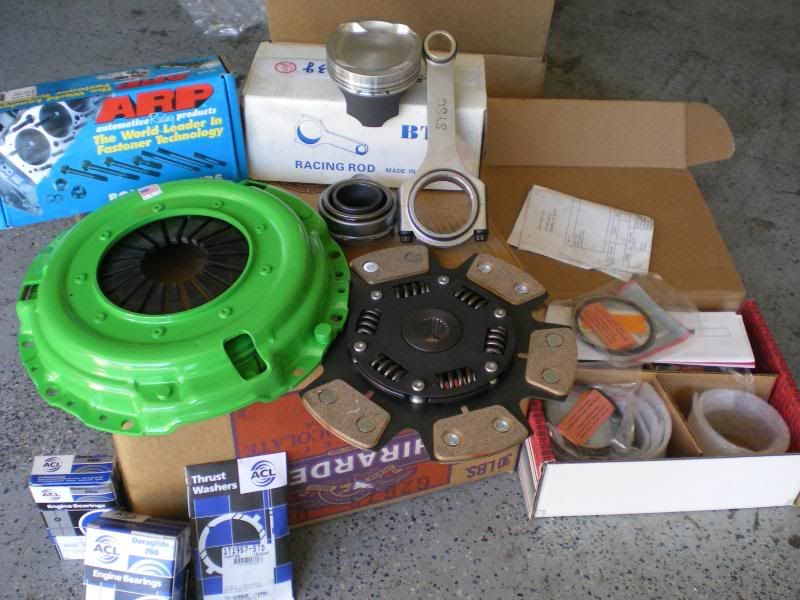 I got my bearings from majestic. I was gona use the acl's but it was too much extra money/work.
UPDATES
Well got the bearings in and they all fit very well and are in specs. SO now I hade to hone the small end of the TT rods to get my pison pins to fit. Witch is normal.
brake hone
It was a snug fit.
mounted the drill in the vice.
I did it a few differant times to make sure that I didnt get in there and just go overboard with it.
Now that the lower end was done it was assmbled, it was time to do the top end.
Went to napa and grabbed some laping compound
Pulled the head out and stripped it clean of all the internmals
Lapping this shit by hand was a real pain.
So the I took the lapper and put it on the grinder and chucked it into my drill.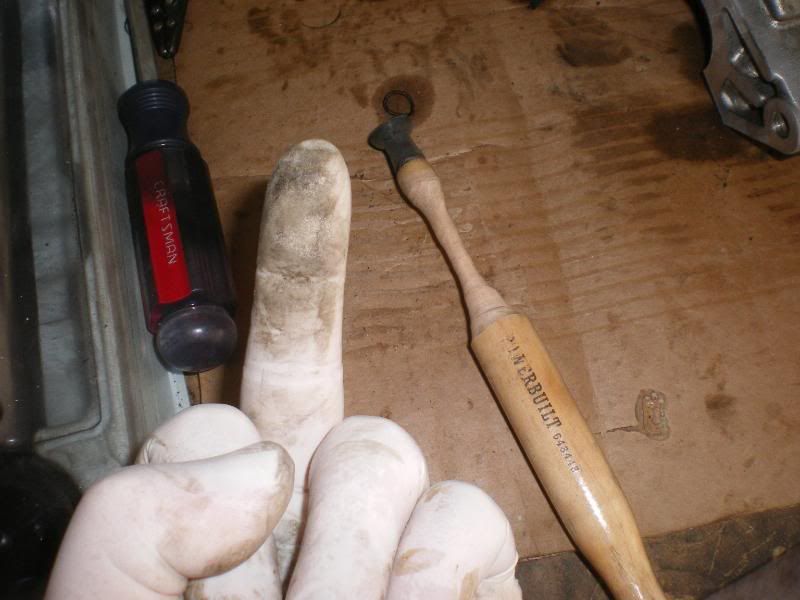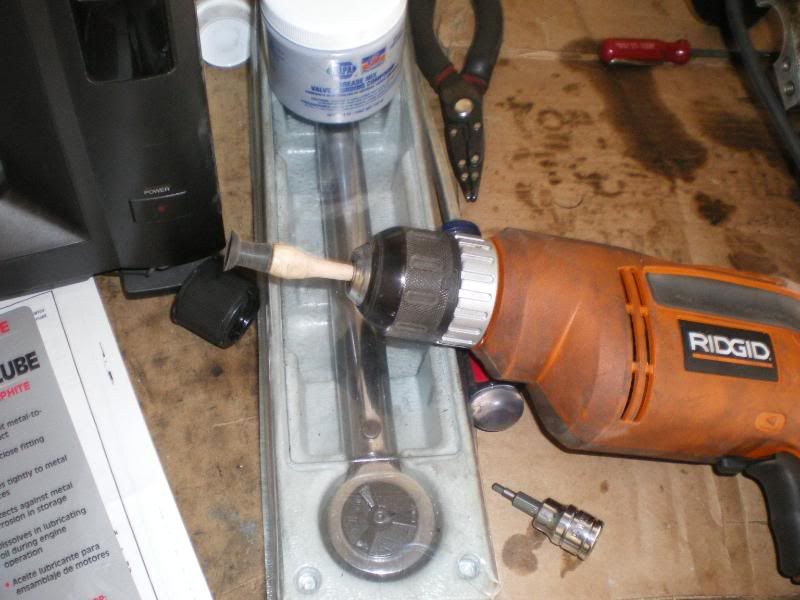 Then I lapped the ever loving life out of them!!!!!!!!!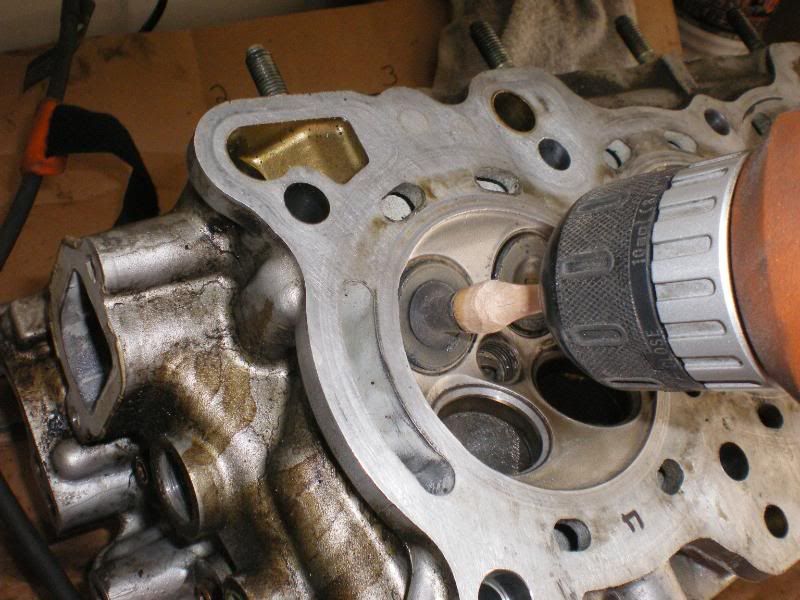 turned out pretty good SO I put the spring seats back in and put the new valve stem seals in.
Pulled out my skank 2 valve springs Thanks 88DX
Side by side the skank 2's are so much beafer than the stock its not even funny.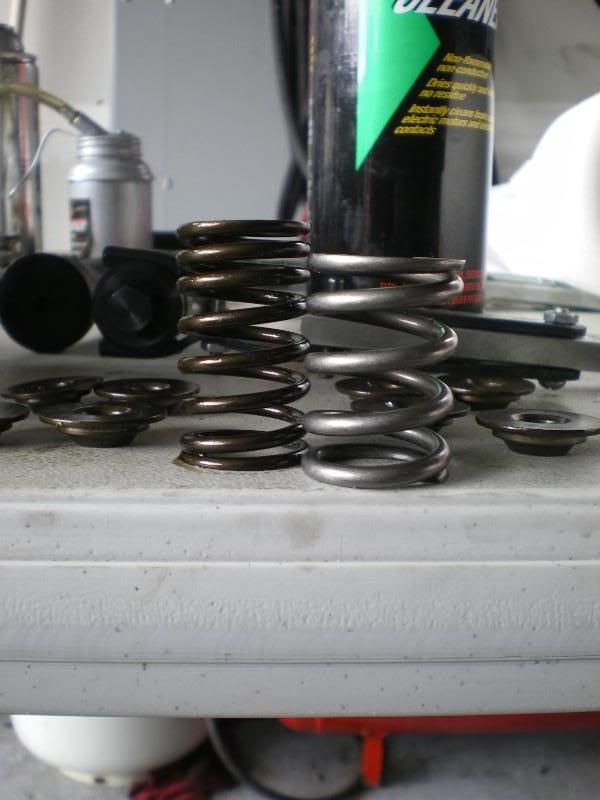 the head went back together, everything was nice and tight.
so it was time for some paint.
Looks way to much like mexican chrome
So I striped it back down to repaint low gloss black like the block.
While I was wating for it to dry I checked out the oil pump and it was withing spec. so I painted it
and put it on
I put the head studs in and now I need to go to the store and pick up some more low gloss black paint.
It runs!!!!!!!!!! but it wont move :'( :'( :'(
something is screwed up with the clutch that I got from LSD???? The sprung center section from the p.plate hits the clutch disk and it wonte let my cluth disingage/engage??? I have already sent them a pm, and a email. Here are the pics......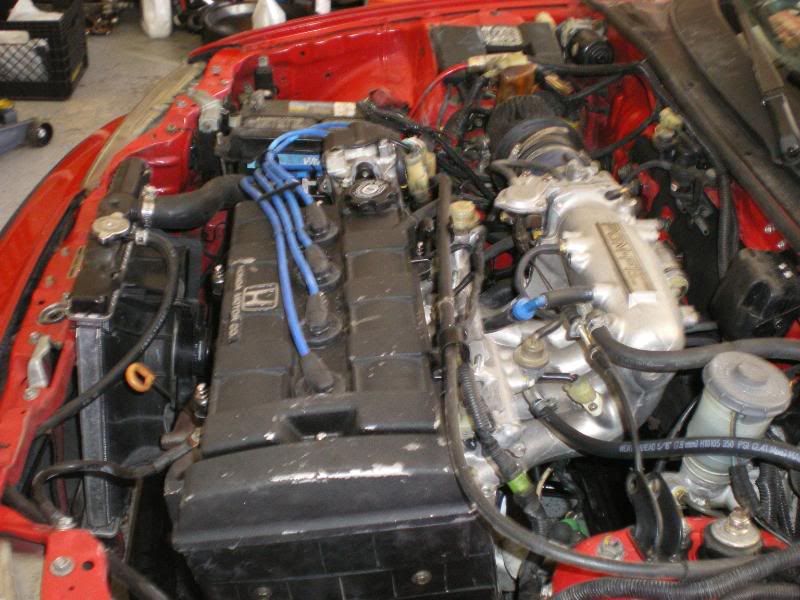 Turns out that mike at lsd had someone other than the normal clutch builder build a few of his clutches and the pp center would hit the disk springs when you pushed in the clutch. So he shipped me one that was good. Keep an eye out for some more updates. :yes:
SO the car now has 1200 or so miles on it. It runs tip top. About 36ish mpg on the hwy, and 25 in town. 4 months ago I switched it over to obd1 chiped the po6, and all that jazz. I then pulled it back in to the garage about a month ago, swaped to some hasport mounts I traded for some parts, and to do a wire tuck. :-X I wil never ever do such a thing again. It was the bigest pain in the ass, and a big waste of time. It looks really nice though....lol Still have some cleaning of the bay to do.
So im working on this thing at about the rate of 2 hours a day. It is taking forever to do all this. But I picked up a splog from randy (evilli140) thing looks great.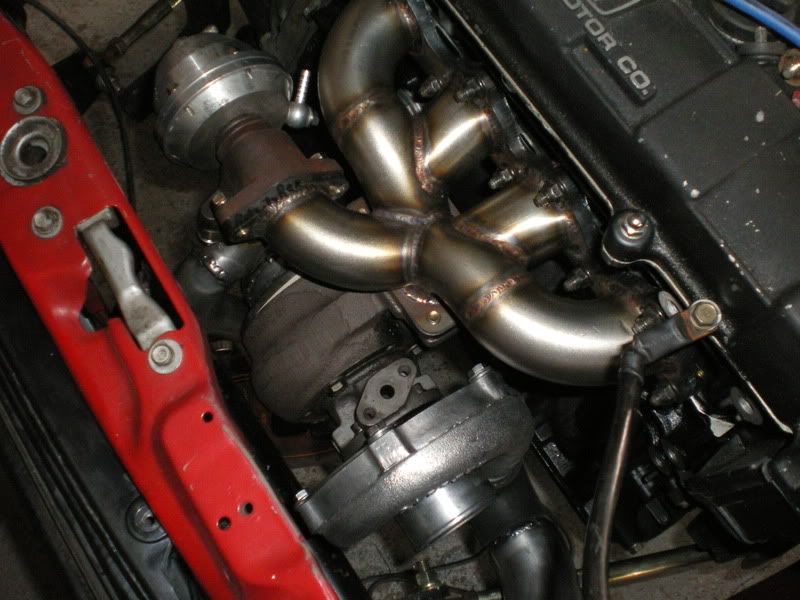 SO I finished my down pipe last week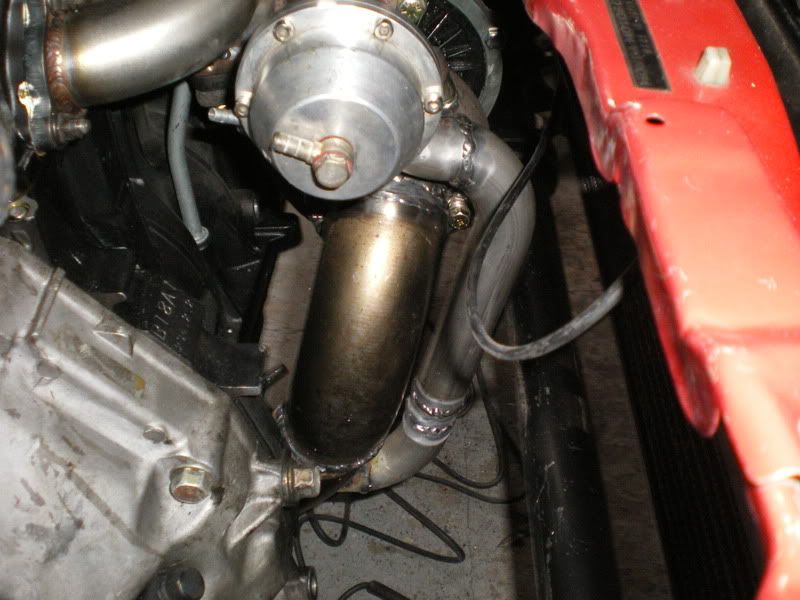 I also put a cutout in that im later gona have a 75mm mustang tb with a choke cable set up so I can open it on the fly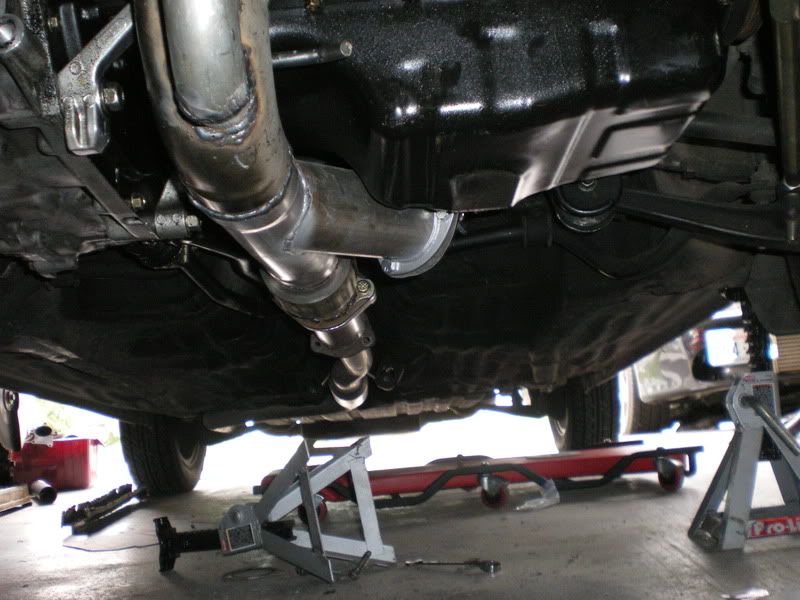 After that I torched my front bumper and mounted my way to small for my powere goal intercooler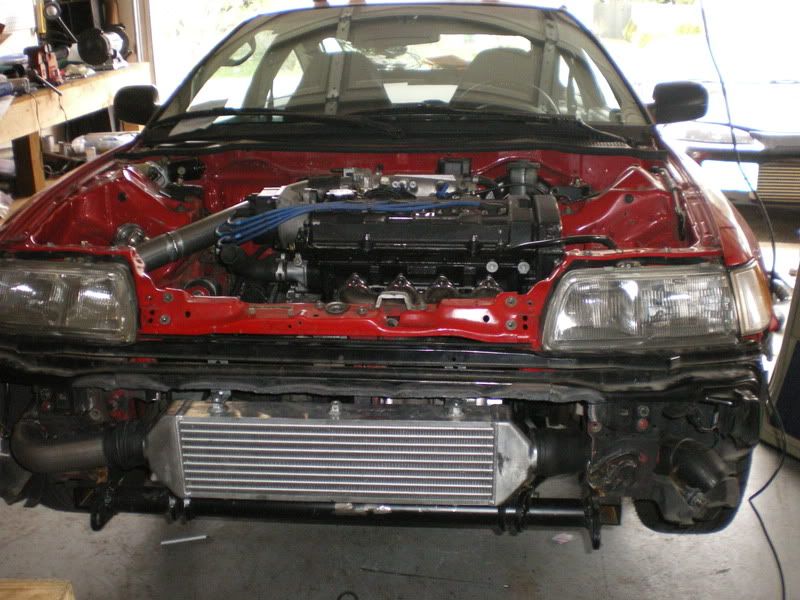 On friday 3-5-09 I knocked out the charge pipes, and they now just have to be painted
Oh and by the way my garage is a total wreck....lol
So now im on the hunt for a new radiator. I dont realy want to run my halfcore due to the fact that im gona have to gangster lean the hell out of it to make it fit with my traction bar being so girthy. But I think i can get a 85-92 vw golf radiator to fit. Its 1.5"X13"X24" and it has 1.25" in and out just like the b18 and they are on the same side. Well see If I can pick one up cheep localy.
So I hate the gangster lean half core radiator that I have in my crx. And it started to leak some. I know that as soon as I boosted my car that it was going to overheat. I have seen it so many times, big boost, stock half core, and a b18 in a crx. :-X But I need the room, whats a rhmt'er to do? So after alot of looking around I came up with this.
The radiator is 24.5"X12.5"X 1.5" Core is 1.5X12X20.5 = 369ci it also has 1 1/4" in and out, unlike the civic half core that has 1 1/8" also the stock half core core is around 1"X14"X14" 196ci
Radiator $50 shipped
So the radiator is for a 85 Volkswagen Scirocco I got it frome here
(the brand is Nissens part# W0133-1610603)
http://www.partsgeek.com/catalog/1985/volkswagen/scirocco/cooling_system/radiator.html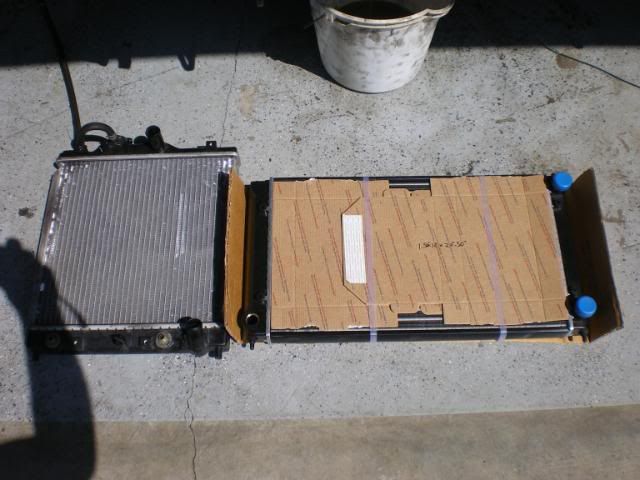 Inline Fill neck $34 shipped
The inline neck I got from the seller
TK Motorsports
on ebay.
2- 5/16" grommets $1 w/tax
The rubber grommets I got from the ma and pa hardware store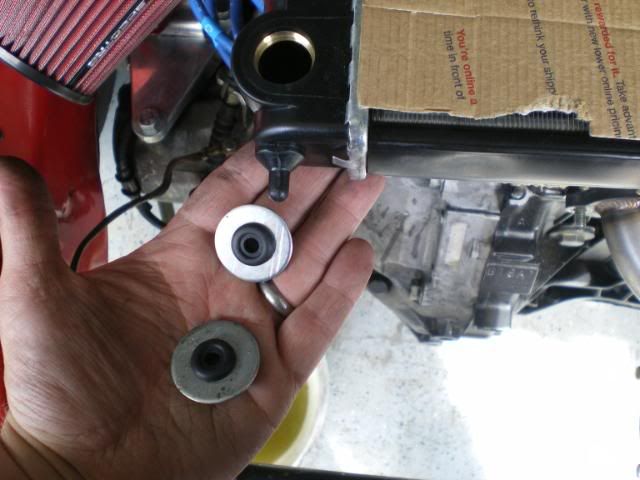 Vented 13lb radiator cap I got from the local auto parts store
Radiator Cap $7 w/tax
2- fender washers free, Had them on hand
Free
Fan temp switch (just to plug the hole in the radiator)
Free from the local wrecking yard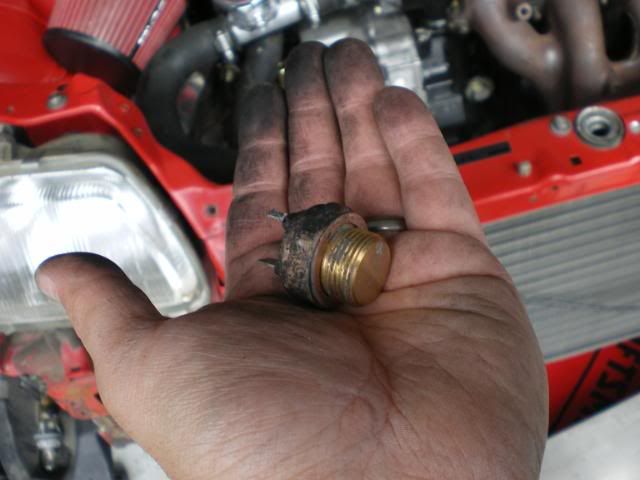 Total price $92
Call it a hundred or so.
On to the setup
It looked like this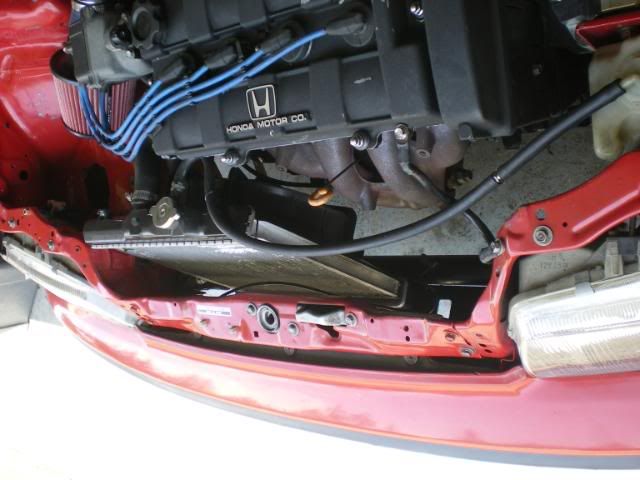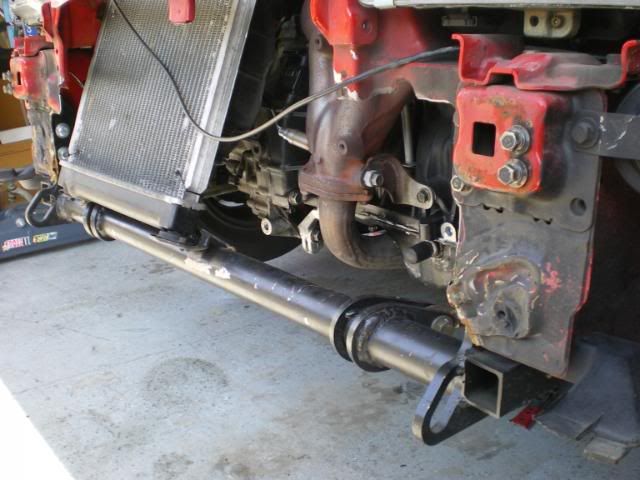 SO first things first, drain your coolent and pull your shitty ass half core out.
Now that youve done that, you are going to need to mod your hood latch support bar. First score the 3 bolts where the latch assembly bolts up so you can get your hood to latch when your done.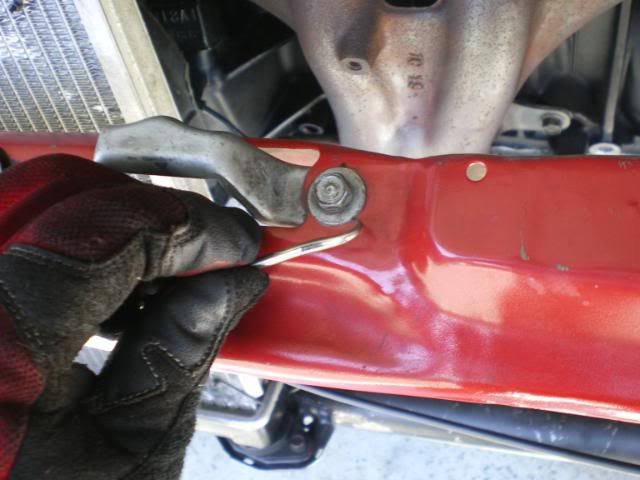 Now pull the 3 10 mm bolts out, and squeeze the 2 plastic clips and and now your cable and latch us free from the support. Undo the 4 10mm bolts that hold the assemble to the headlight area, and the 1 10mm bolth that is attached to your lower support. Clamp it ito the vice, and now pull out the drill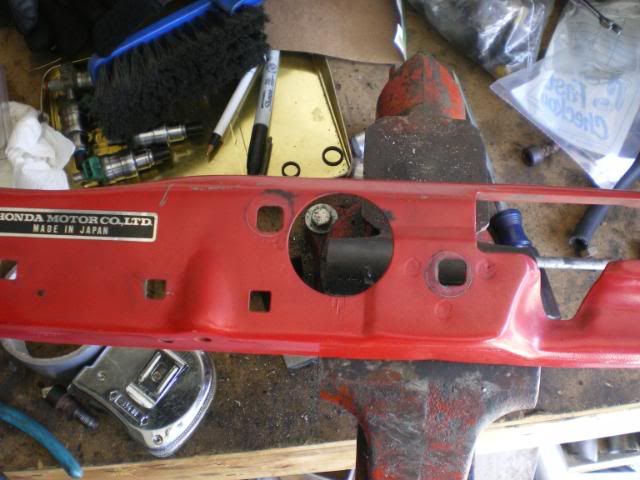 Now I used a step bit to drill out the 4 spot welds that hold the upright support on, You will be getting rid of this to make room for your new radiator.
Now I used a flat head screw driver and worked it in between the support upright and the latch bar. I took my time on this because I did not want to bend the latch support up to bad.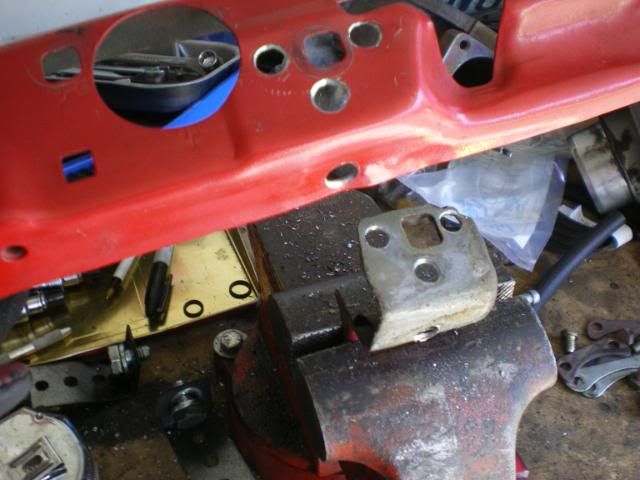 Now go ahead and bolt the hood latch back onto the support bar and test your hood to make sure it closes and opens.
Ok with that done I now went onto the task of mounting on the tabs to hold the radiator in place.
So I took the 2 rubber grommets and slipped them into the washers and put them onto the bottom of the radiator.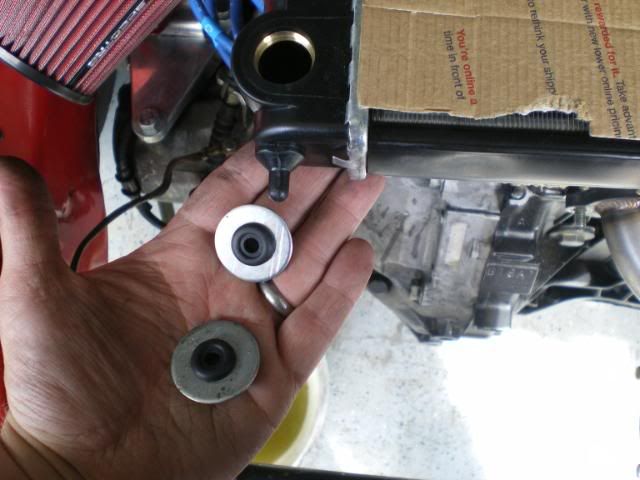 and I held it upto where I needed it. I made some marks on the traction bar of where the washers hit it. I pulled the grommet out and tacked 1 of the washer into place with my welder. Let it cool down and put the grommit back in.
After I test fitted it, I double checked my other washer marks and pulled the grommet out and tacked the other washer into place.
Now I need to keep the top of the radiator from flopping around. So I had some scrap lying around.
Cut it down and drilled a hole in it. And grabbed a screw I had lying around too.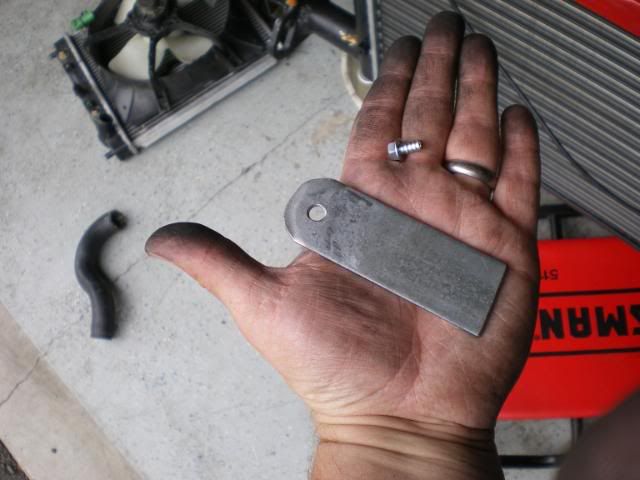 Now I saw just where I wanted it monted up.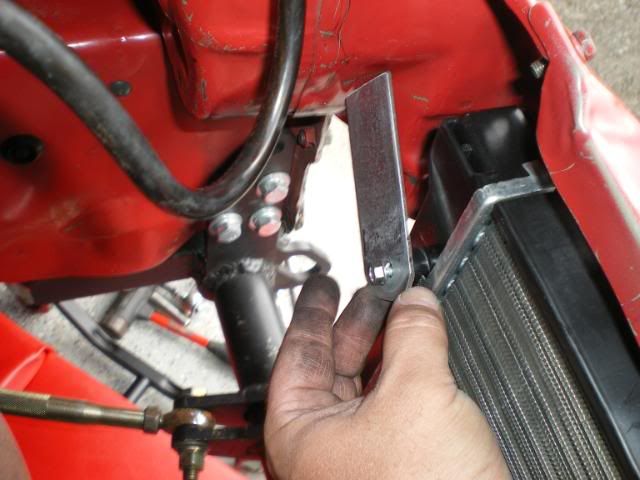 Well with my awsome welding skillz :-* and some oil that I had sitting in between the sheetmetal from a previous busted oil feed line it turned out somthing like this :-X :-X :-X :-X :-X :-X :-X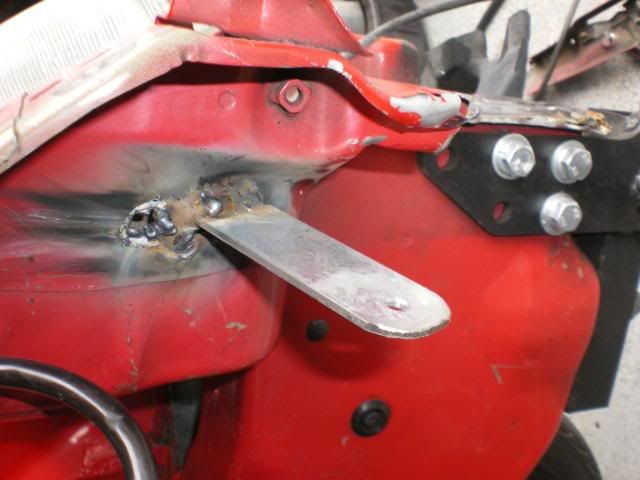 I used the stock 91 teg lower radiator hose and it worked perfect. For the upper hose I used 1 91 teg upper hose, and a piece of another teg upper hose.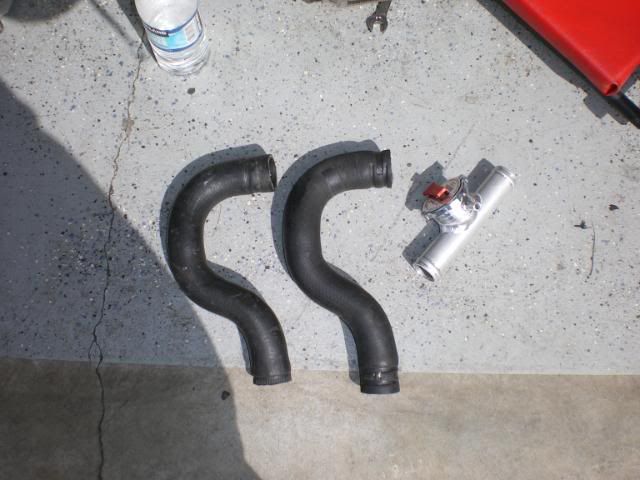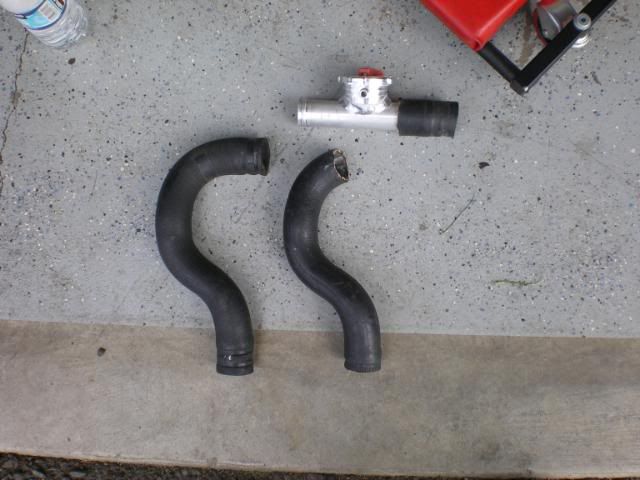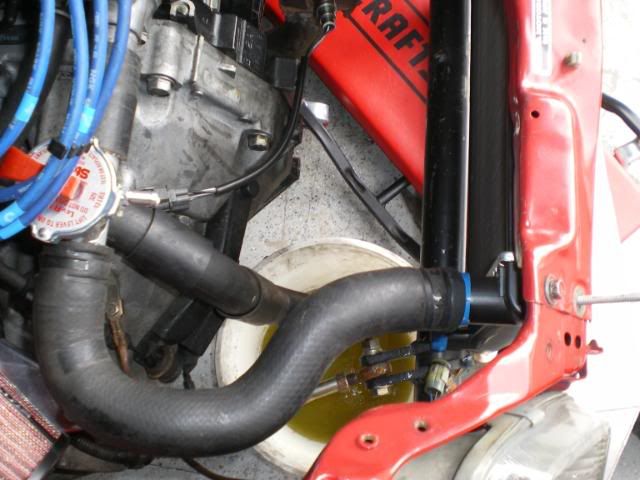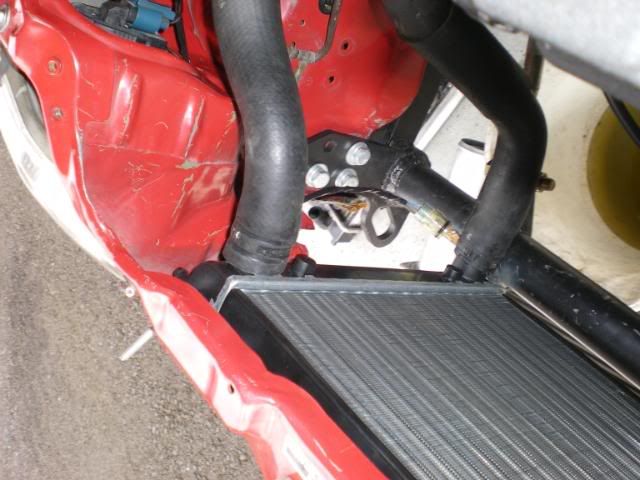 Now there is a nipple off of the radiator so I took a vaccume cap and a hose clamp and threw it on there.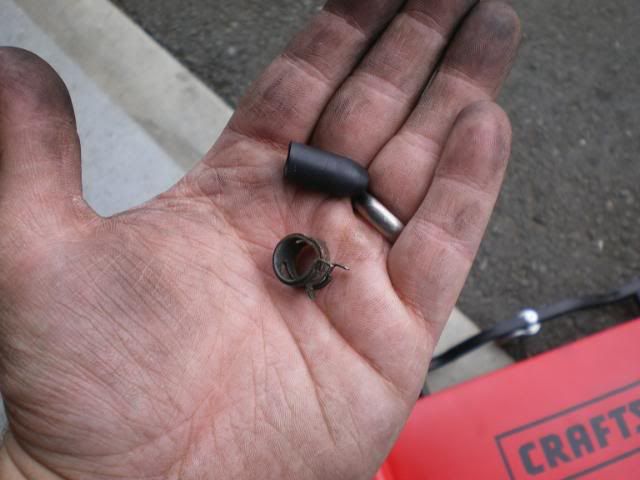 I then put my slim line fan on and put it back together.
Well see how it dose over the next few days but so far it seems great. and it tucks up under the support and out of the way of my turbo and downpipe.
Now I will be able to get my backdoor intercooler in there too, Just one step closer to being done.
[quote author=caged link=topic=205.msg39678#msg39678 date=1242202360]
That radiator came up great :yes:. Good luck fitting the front mount in tho.
[/quote]
I already found it....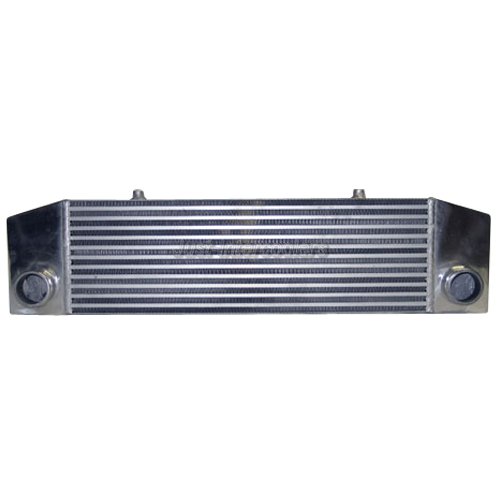 Now I just have to come up with the cash to pick it up :-\
[quote author=malichite link=topic=205.msg50240#msg50240 date=1244845403]
Why havn't you posted this sexy picture yet? :yes:
[/quote]
[size=30pt]
UPDATE
[/size]
Just got the backdoor intercooler today!!!!!!!!!!
Core is 25"x8"x2.75"
Im gona hve to get new ins and outs welded to it in a few weeks because it has 2.5" in/out but its a thick ass wall and the inside of the pipe is 2 1/8" :-\, but It should flow enough air for my power goals. Im taking the compressor side of my turbo over to a friends house tomorrow morning to have him weld a elbow to the compressor outlet. So far its coming along. Slow going but its going. Only thing left after that is to have the turbo balanced
Went from this dinky intercooler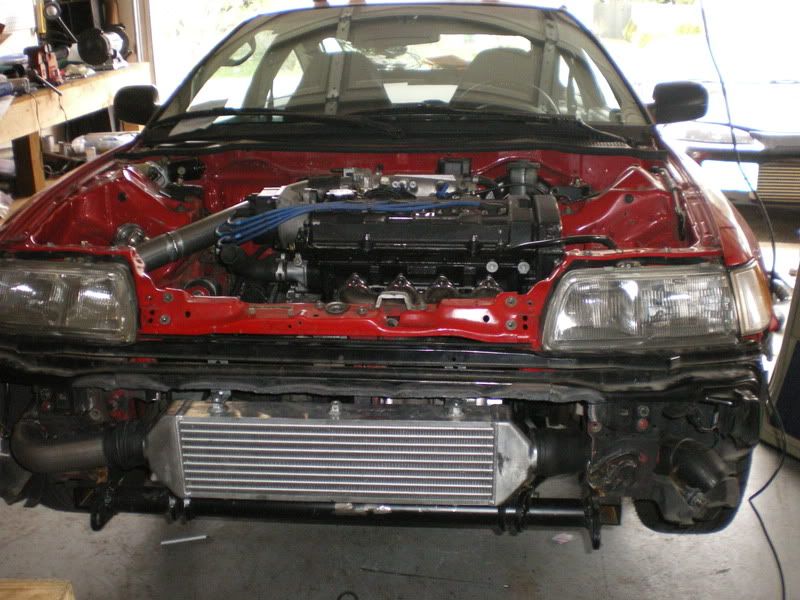 To this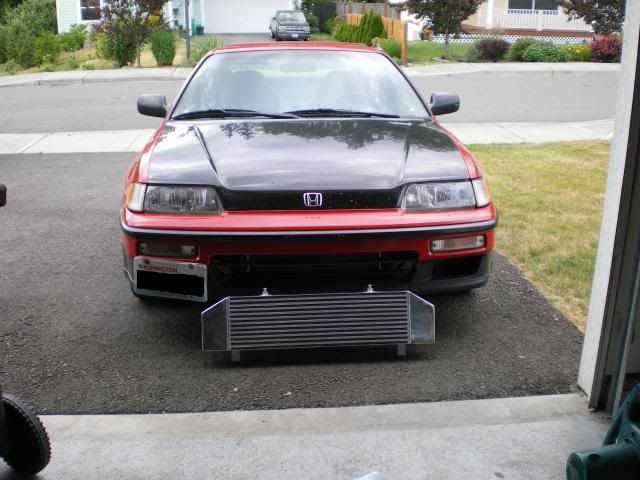 Well did a little setting up today and just about got the intercooler just how I want it. I nees to trim just a smidge off the back of the grill. so it dosent push the bumper down. like this
Cant really see it to much but its not just how I want it so im gona trim it up a bit. It will still retane the stock grill. Here is the pic of the front of it.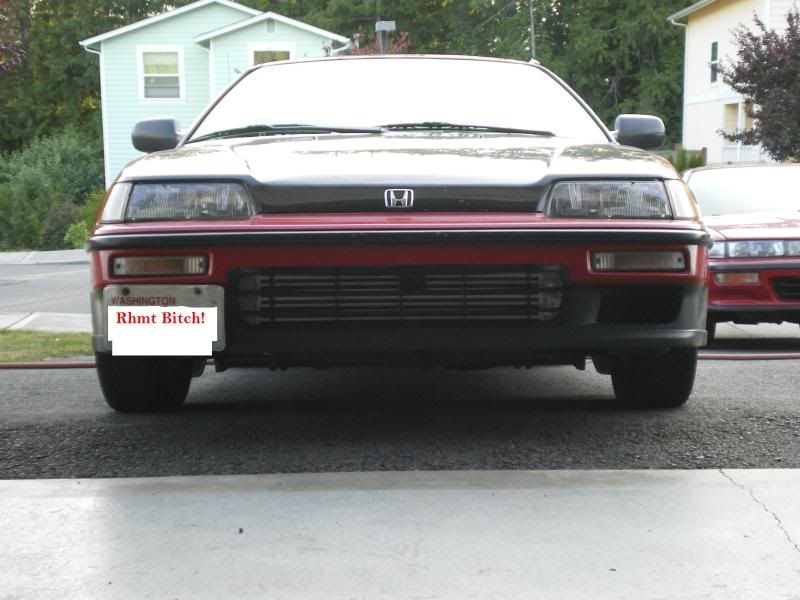 Once I get it trimmed up tomorrow, its getting a coat of low gloss black for the sleeper look. And then when I get my turbo wheels back from rons turbo shop. Its getting thrown together and on to the streets I go for some tuning. Ill get more pics of how I set it up tomorrow once I get the bumper trimmed. Man im itchen for the boost. I cant wate.
Well I receved my turbo wheels today. Aboot time damn it. I also receved my 1/2 3 bolt 3" flange to redo my down pipe. I dont want to keep redoing this shit over again, but I want it right. So I ordered up new 3" tubing and I receved that last week.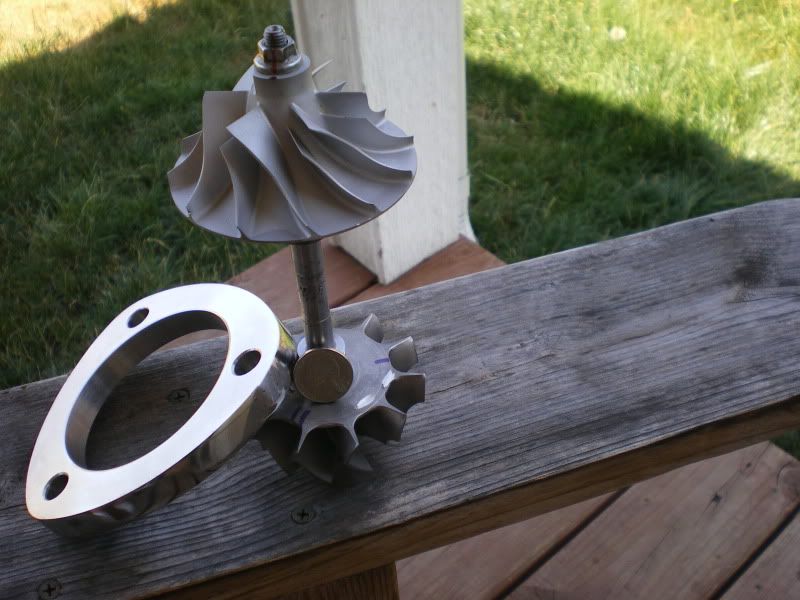 Gona try and get some work done in this 100* garage. Beer is on ice in the cooler and Im heading out ther in just a few.
here are some pics of the turbo........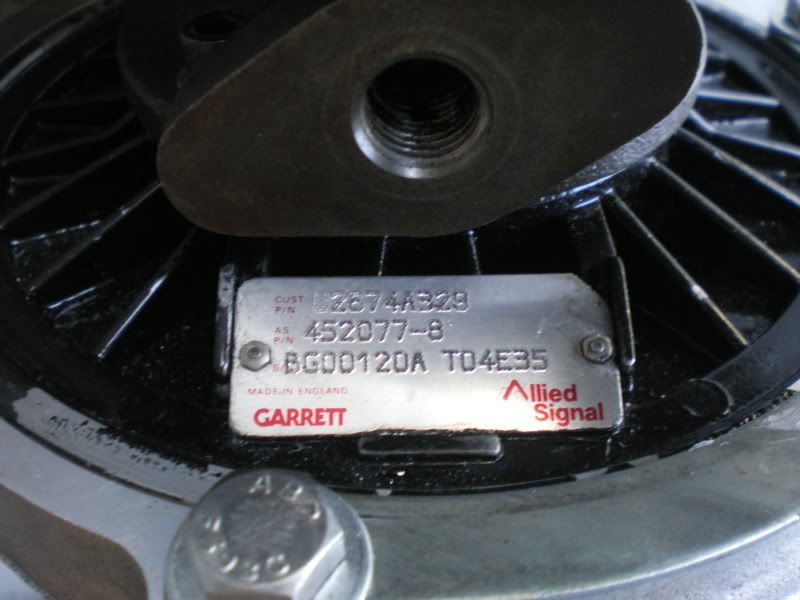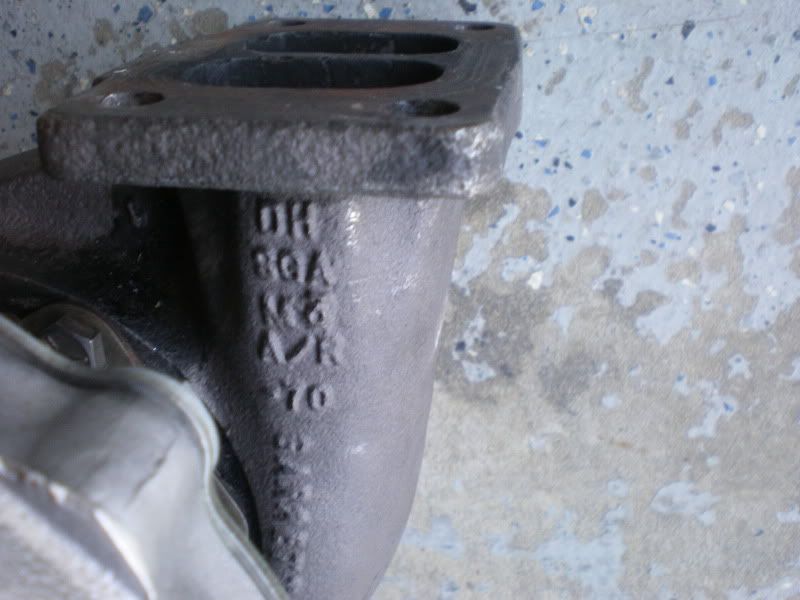 UPDATES!!! O0
Well hear are a few pics of the new stuff I just got from chris m
74 taper boar down to 68mm tb compared to stock 58mm
70-68mm spacer plate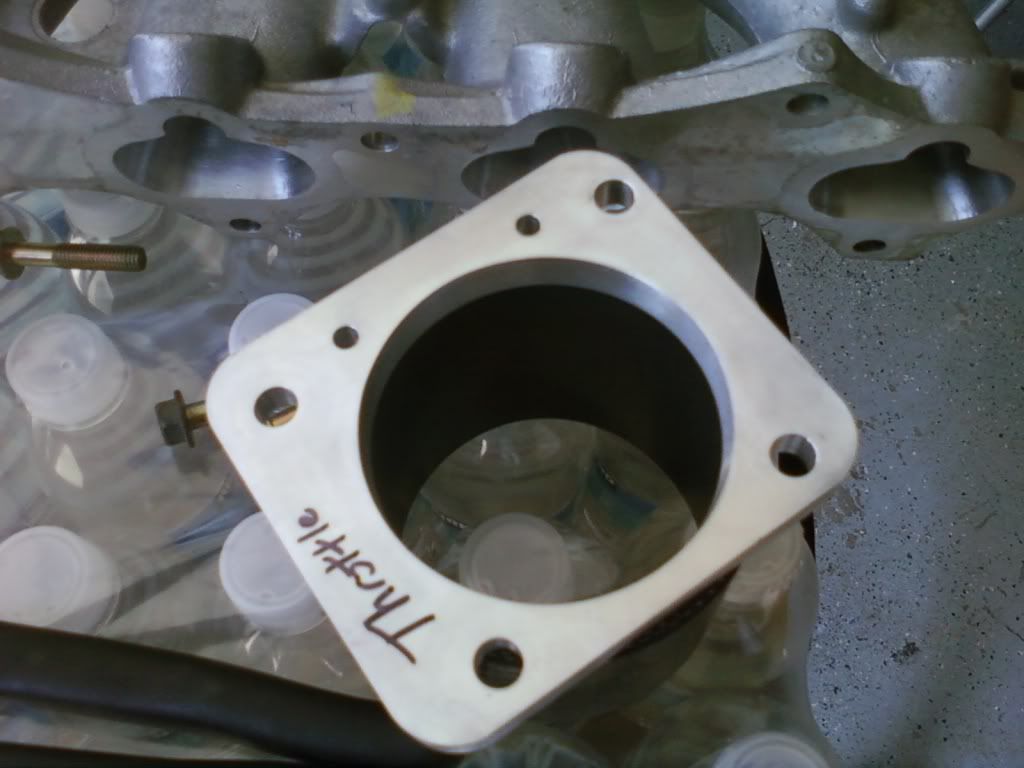 Ported b18b intake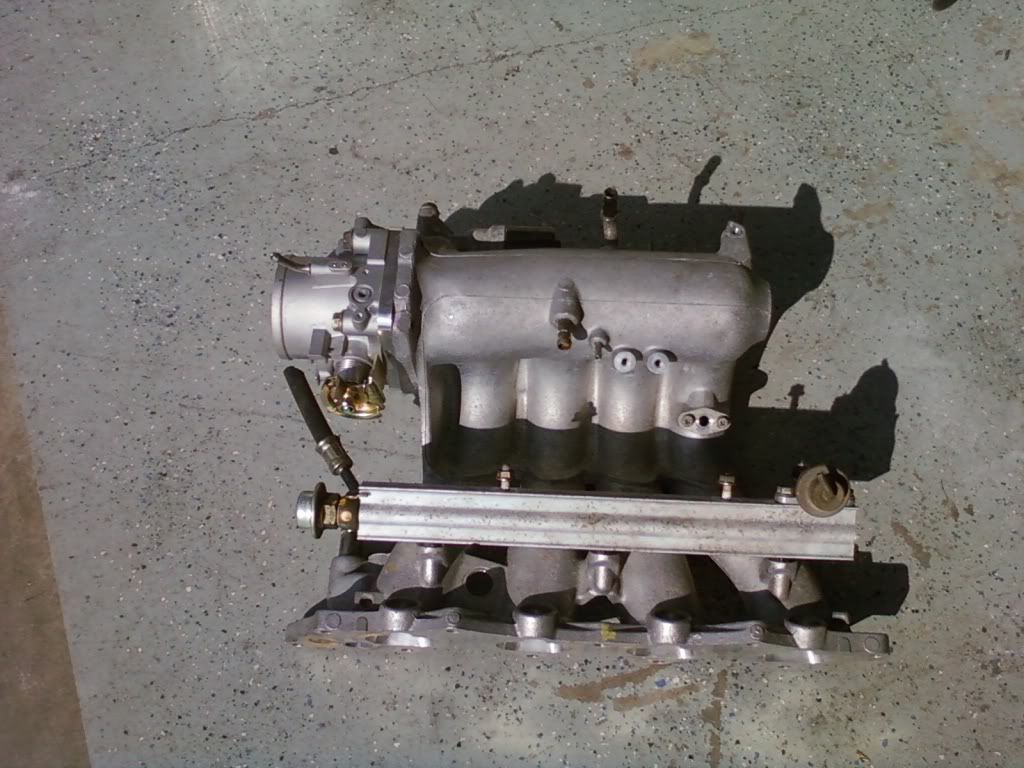 And last but not least. Down the throat of the bitch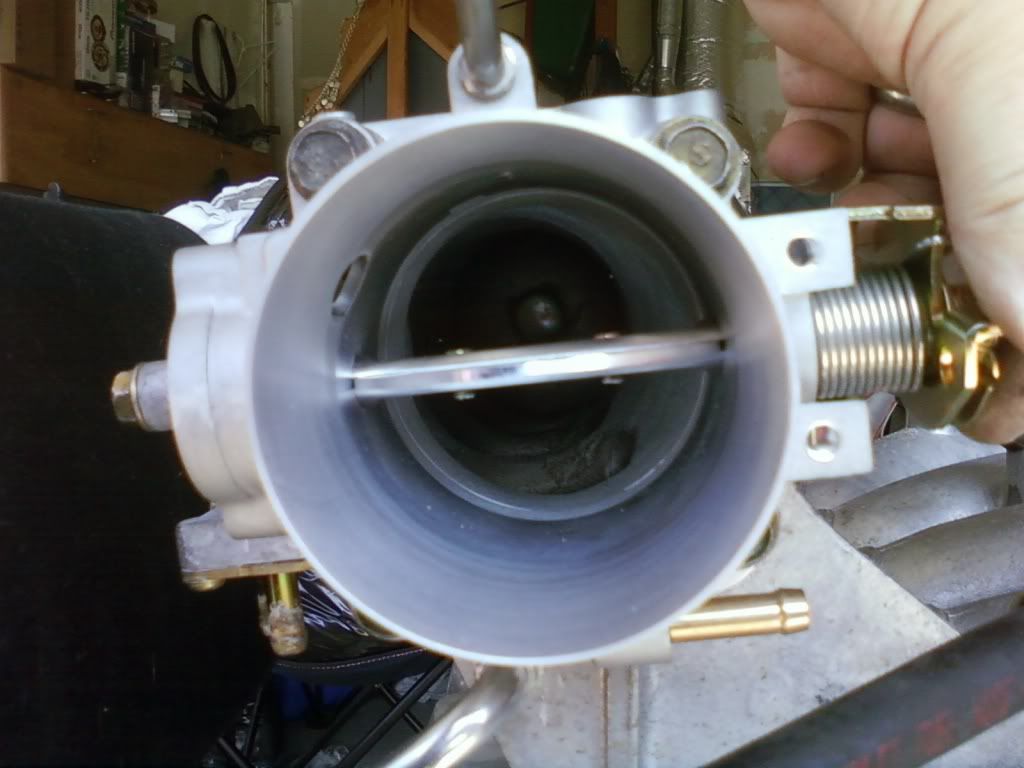 So I modded the intercooler due to the fact that the cast endtank pipes were gona be a bit restrictive. Took out the old and put 3" in and out.
IMG]http://i64.photobucket.com/albums/h171/iitru45/b18/img1262738856693.jpg[/IMG]
Got the cold side charge pipe done and installed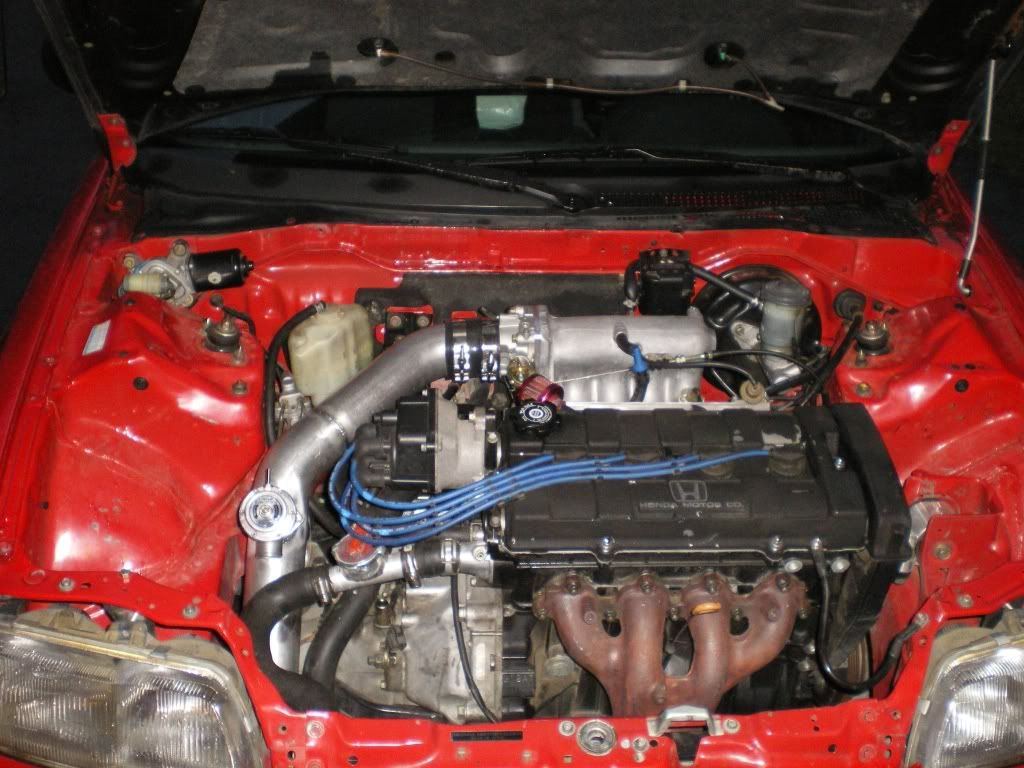 Time for some Delta Cam lovin!
During the install WTF? Cam broke in half b4 I even got to tighten down the cam caps. But I took it to Jon and showed him it and he cut a new one at (NO CHARGE) while I waited. THANKS DUDE!!
Wastegate dump tube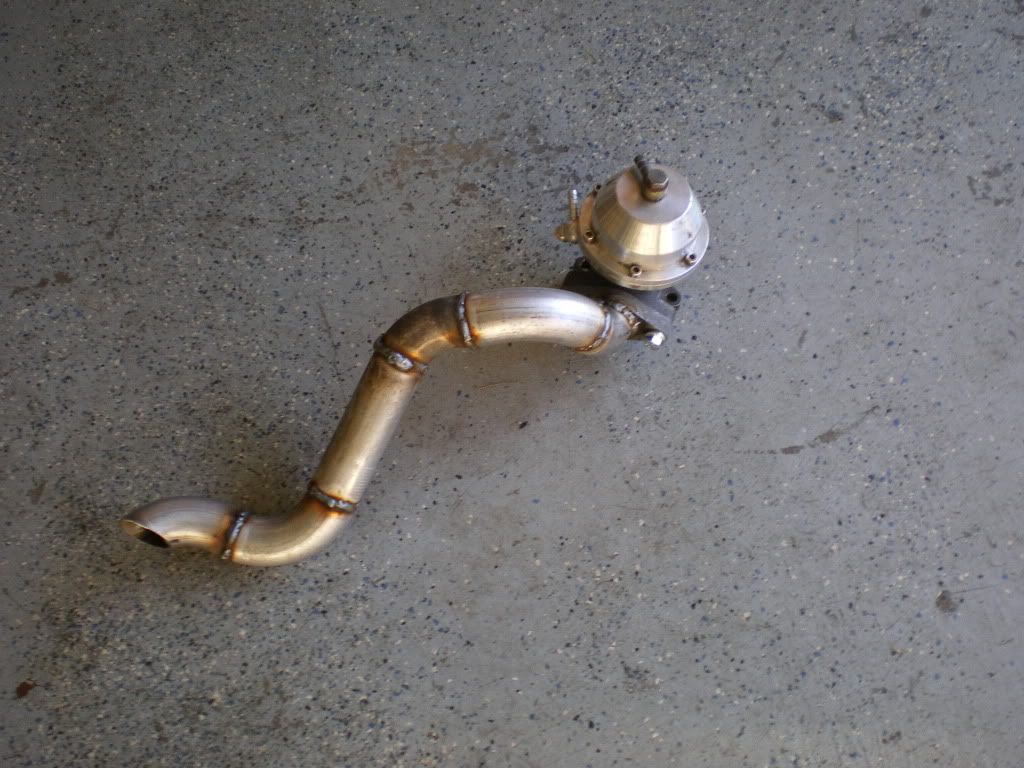 Turbo, downpipe, and wategate dump tube on mock-up-block
Time for the rest of the 3" exhaust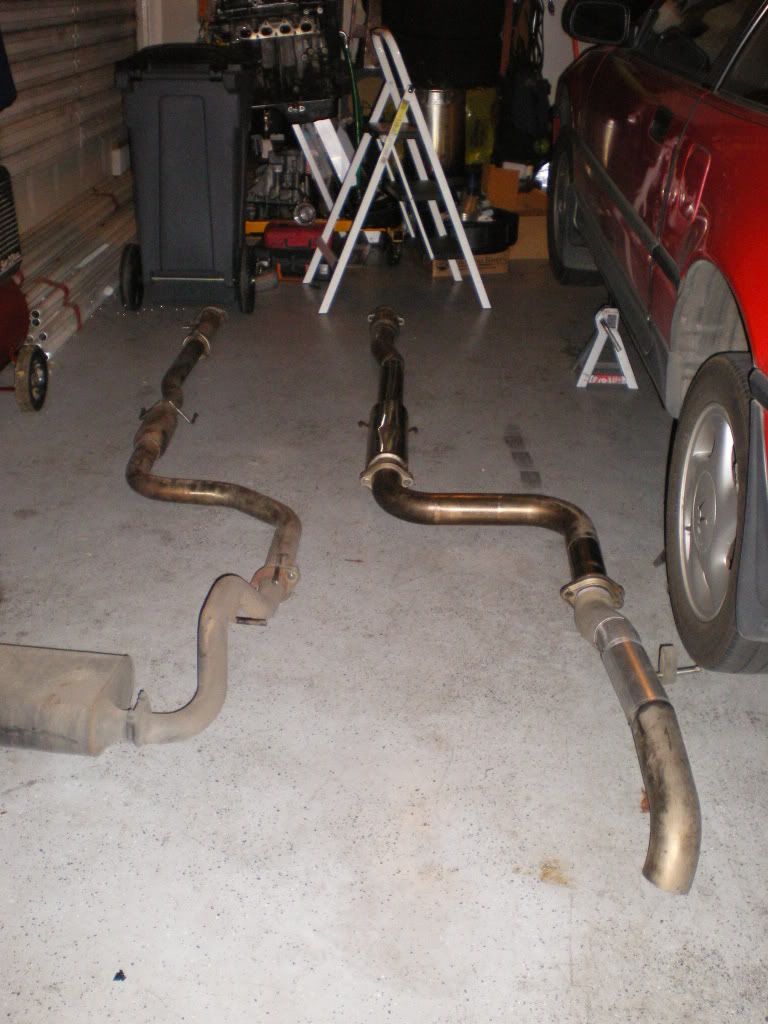 Tucks up nice and tight.
Mufflers are overrated so I just dont run one, so I just put a tundown on.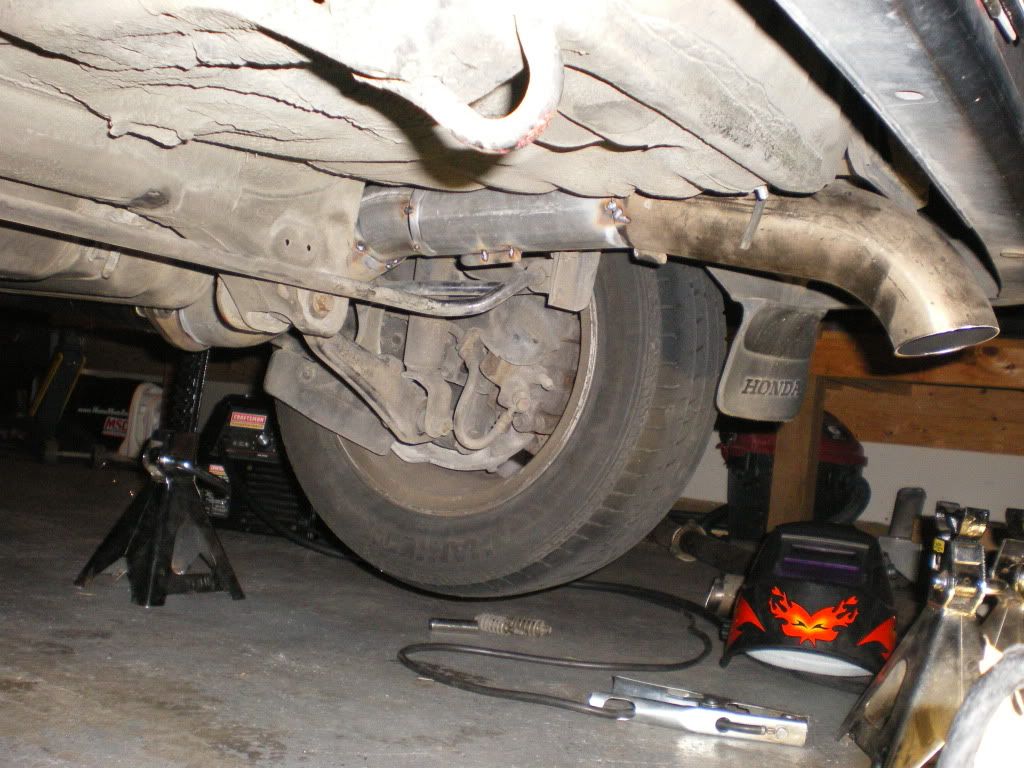 Homemade catch can made by my bud Blake
Now time to keep it cool, so I did a new fan shroud for my custom radiator,
china fan and no shrowd = no good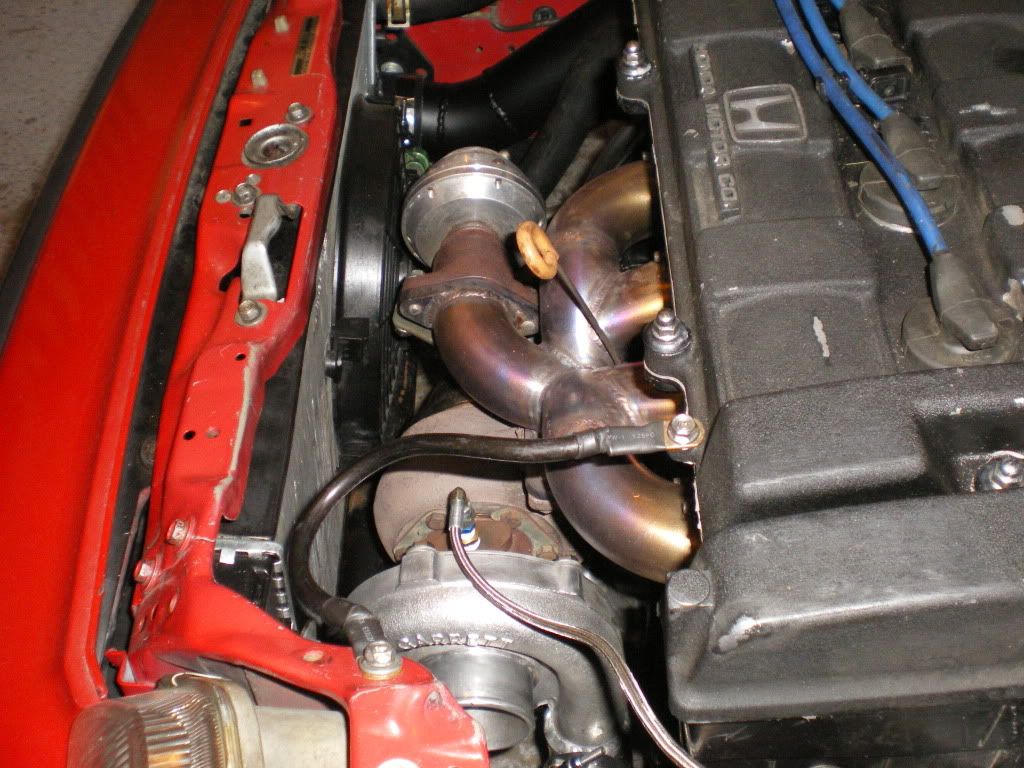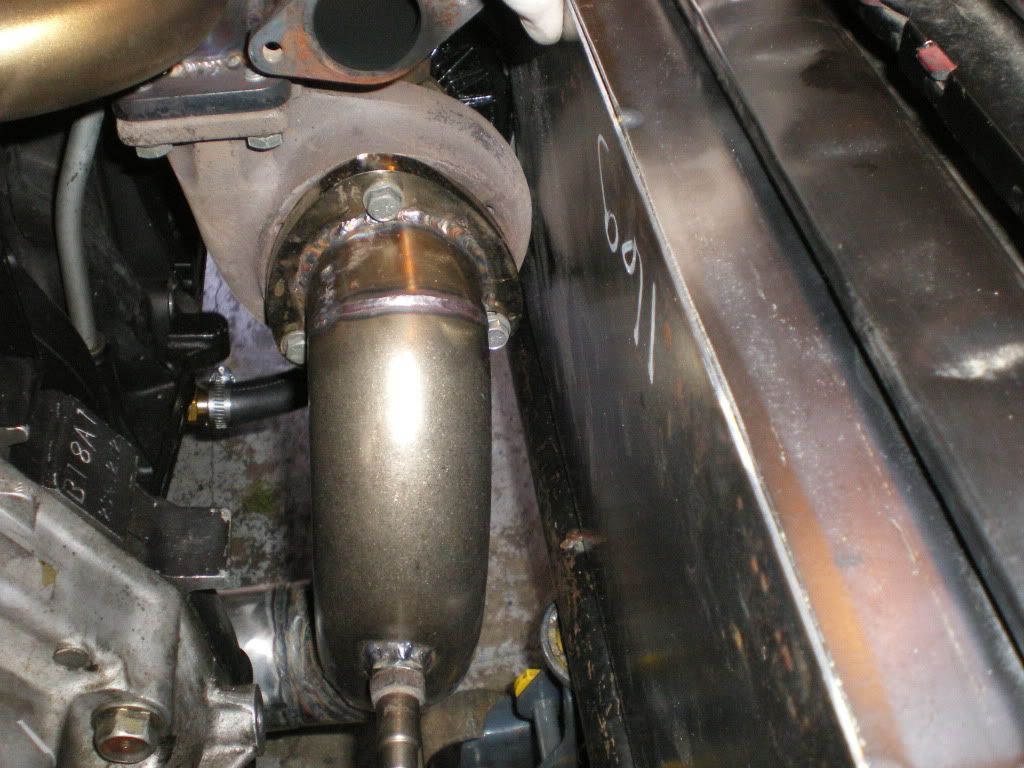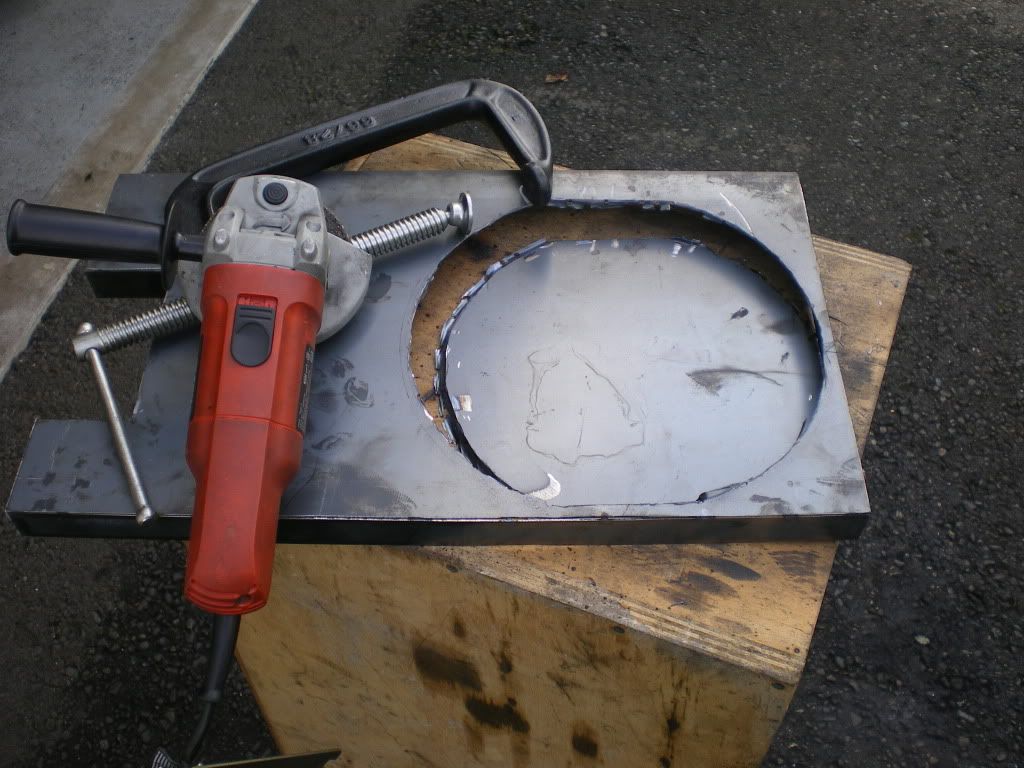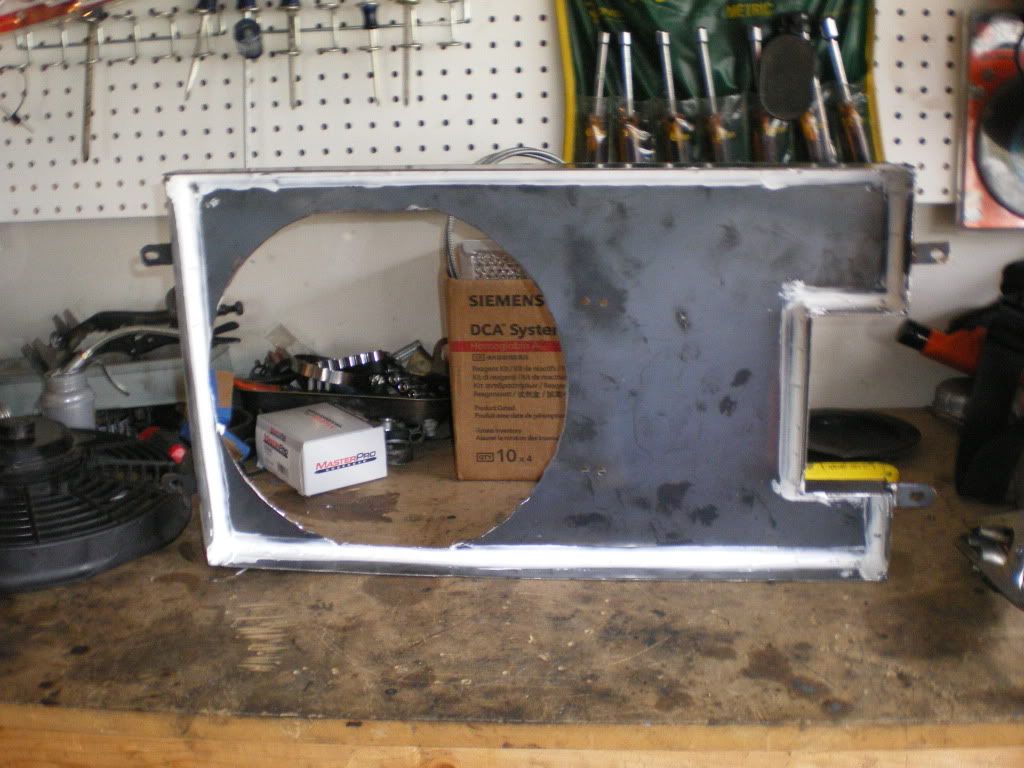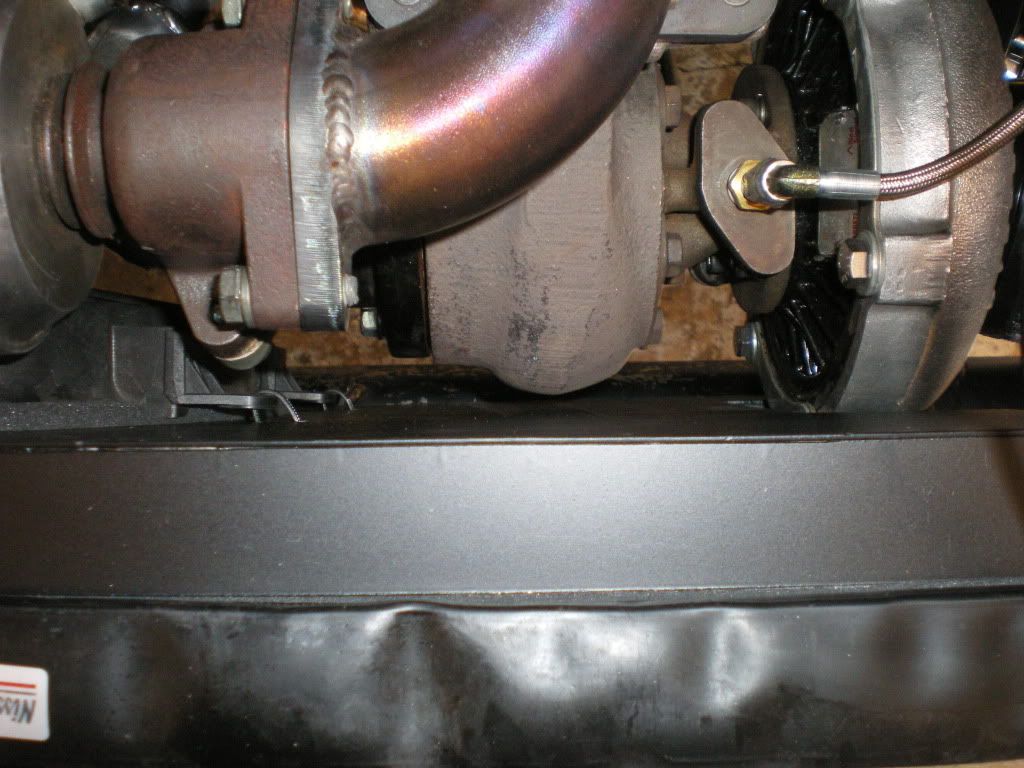 Now that that was done, its time for tuning and rippers!!!